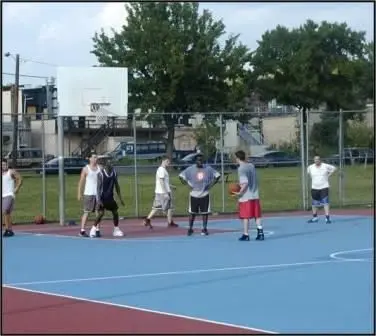 FRACTURES – SEE BELOW
ARTHROSCOPY – SEE BELOW
Sports accidents account for many orthopedic and foot and ankle injuries.
The physicians at NYNJ Foot and Ankle Associates are highly trained in orthopedic injuries.  Dr. Finkelstein trained extensively in foot surgery and reconstructive rearfoot/ ankle surgery at St. Barnabas Hospital, where he served for two years as chief resident.  He currently serves as a foot and ankle surgeon for Premiere Orthopedics (www.premortho.com) in New Jersey.
FRACTURES
Orthopedic trauma, such as fractures (broken bones) and soft tissue injuries (such as tendon and ligament rupture) are usually medical emergencies.  Treatments may include surgical or non-surgical modalities.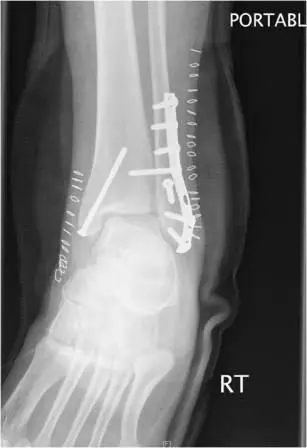 Fracture with Internal Fixation
Fracture with External Fixation
If surgery is required, our surgeons will be available to help you.
If you experience an orthopedic or sports-related foot or ankle injury, call our office.  Our doctors will advise you on treatment.  Often treatment is provided on an out-patient basis, preventing unneeded emergency room visits.
ARTHROSCOPY
Even after an injury heals, pain frequently persists for months or even years.  This pain may range from a dull "discomfort" to "severe" disability with difficulty ambulating or bearing weight.  Pain may be caused by loose fragments of cartilage within the joint or post-tauamtic arthritis.
Treatment may include physical therapy, bracing/ splinting, anti-inflammatory medication or cortisone injections.
In addition, arthroscopy has proven to be an effective method for treating chronic joint pain.  Arthroscopy is a minimally invasive surgical procedure that involves a small scope and shaver (the size of a pencil) which are inserted into the joint.  The surgeon then visualizes the joint on a TV monitor.  The procedure is diagnostic in that it allows the surgeon to look into the joint to evaluate the extent of the damage.  The procedure is also therapeutic in that the loose fragments are debrided and removed.  (See pictures below).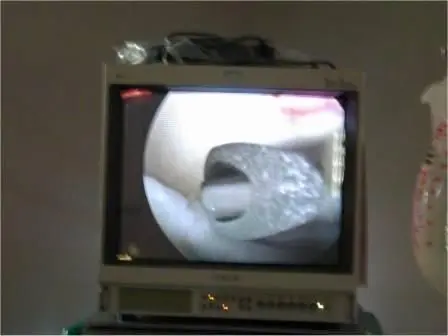 In most cases, two sutures are required to close the wound and the patient returns home the same day with an ace bandage covering the surgical site.